Above: Billy Raymont and YPH Capulet winners of Round 1 of the Mini Prix.
It has been a long 815 days since we last saw action at the Pryde's EasiFeed Australian Jumping Championships, when Tom McDermott and Elegance de la Charmille were crowned Australian Senior Champions, way back in November 2019. Unfortunately, the 2020 Championships were cancelled followed by the postponement of the 2021 Championships by three months. However, the wait is over!
Boneo Park is delighted to once again host the Championships, with today marking the first of five days of exciting Jumping competition. The 2021 Pryde's EasiFeed Australian Jumping Championships will conclude on Sunday, when the new Australian Senior, Young Rider and Junior Champions will be crowned.
On the Pryde's EasiFeed Main Arena, the action commenced this morning with the first round of the Kiernan Plant Hire Future Stars Competition. To be eligible for this class, horses must be aged either 6, 7 or 8 years and because of the postponement of these Championships, 9-year-olds as well.
Braving the brisk morning breeze, we saw 34 combinations tackle the David Sheppard build course on a perfect lush green surface. There were 10 clear rounds, the fastest of which was achieved by Queensland visitor Stuart Jenkins and the mare Fairview Alicana setting the scene for an exciting jump-off.
Jenkins and Fairview Alicana completed the jump-off clear in a time of 38.67 seconds, however, it was not enough to take the win, with the in form Phillip Lever and BP Jedak Du Rouet also leaving all the rails up in a sizzling 37.68 seconds. For this pair, it was a continuation of their success last weekend at the World Wetlands Event. Also double clear, were the NSW based combination of Madeline Sinderberry and Balentino, in a time of 38.84 seconds. It was a high-quality class, with those placed fourth through to sixth all also double clear and less than four seconds separating the top six.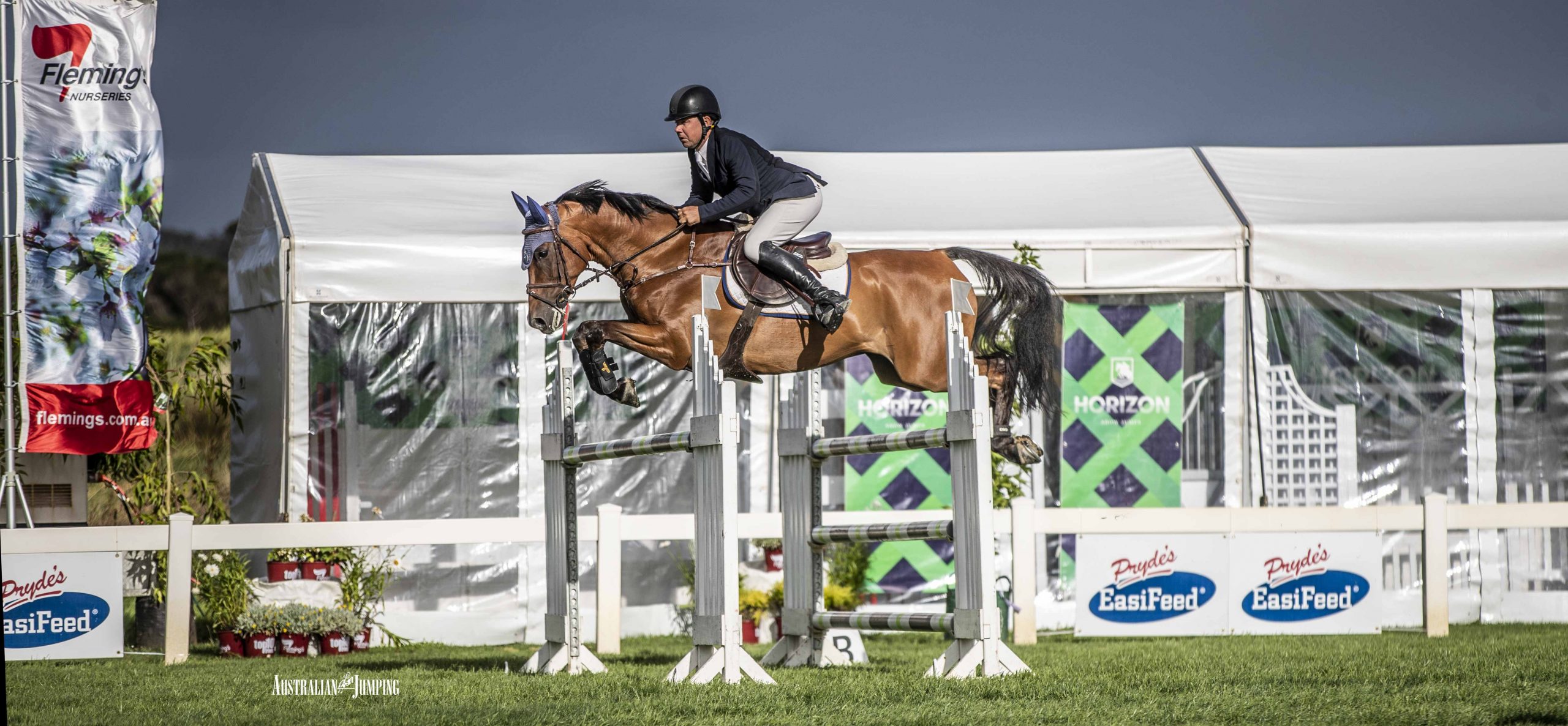 Above: Phillip Lever and BP Jedak Du Rouet
The second class on the Pryde's EasiFeed Main Arena was the first qualifying round in the Mini Prix competition. Sponsored by Interpath, as with the Future Stars class earlier, combinations were looking to fine tune their charge towards Saturday's final. A total of 36 combinations stepped out, and among a number of very fast rounds, there was one that stood out. Queenslander Billy Raymont and his gelding YPH Capulet took a rail, however, they were so fast, they were able to have the required four second penalty added on and still record a time quicker than the rest. Raymont's adjusted time of 62.61 seconds was almost 2 seconds faster than the second placed Olivia Hamood and Knock Out 111, who were clear in 64.41 seconds. Third place went to another clear round, Russell Johnstone and Dondersteen.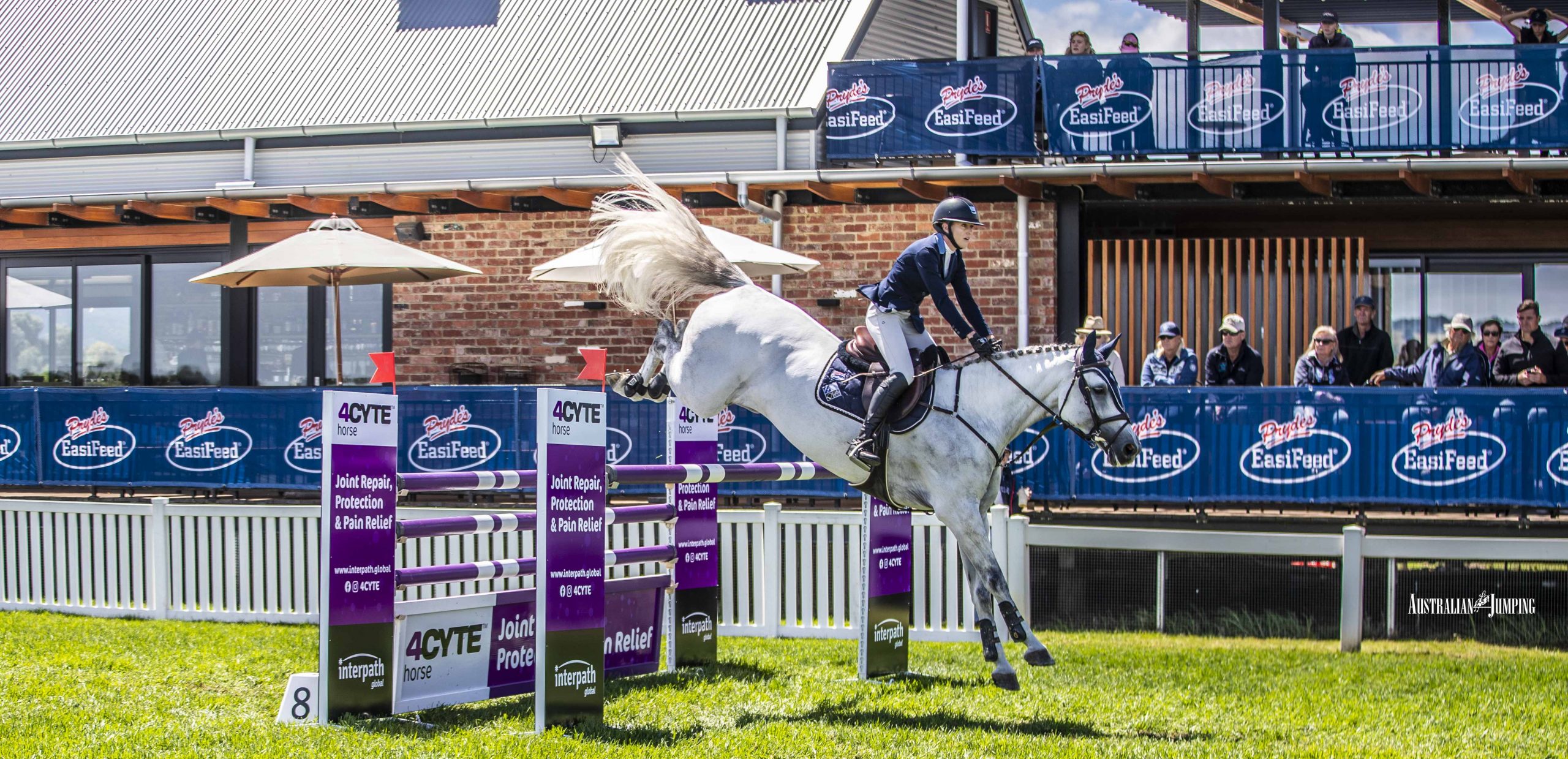 Above: Olivia Hamood and Knock Out 111
The final class of the day on the Pryde's EasiFeed Main arena was the first round of the Beaconhills College Australian Children's Championship. Beaconhills College have sponsored this Championship for the last few years. While 25 of the 39 combinations entered were from Victoria, there were also entrants from NSW and South Australia, as well as a single combination from Tasmania.
There were 16 clear rounds recorded, but the fastest, and therefore the win went to young Victorian rider, Charlee Dobbin and Lovegrove in a great time of 58.99 seconds. In second place, just 0.25 seconds slower was another Victorian, Jack Barker and Mighty Tosca. Third place, again just 0.25 seconds slower than second, was Alice Lawrence and Mucho Much Deniro. The second round of the championship is scheduled for Thursday before the final, first thing on Saturday morning.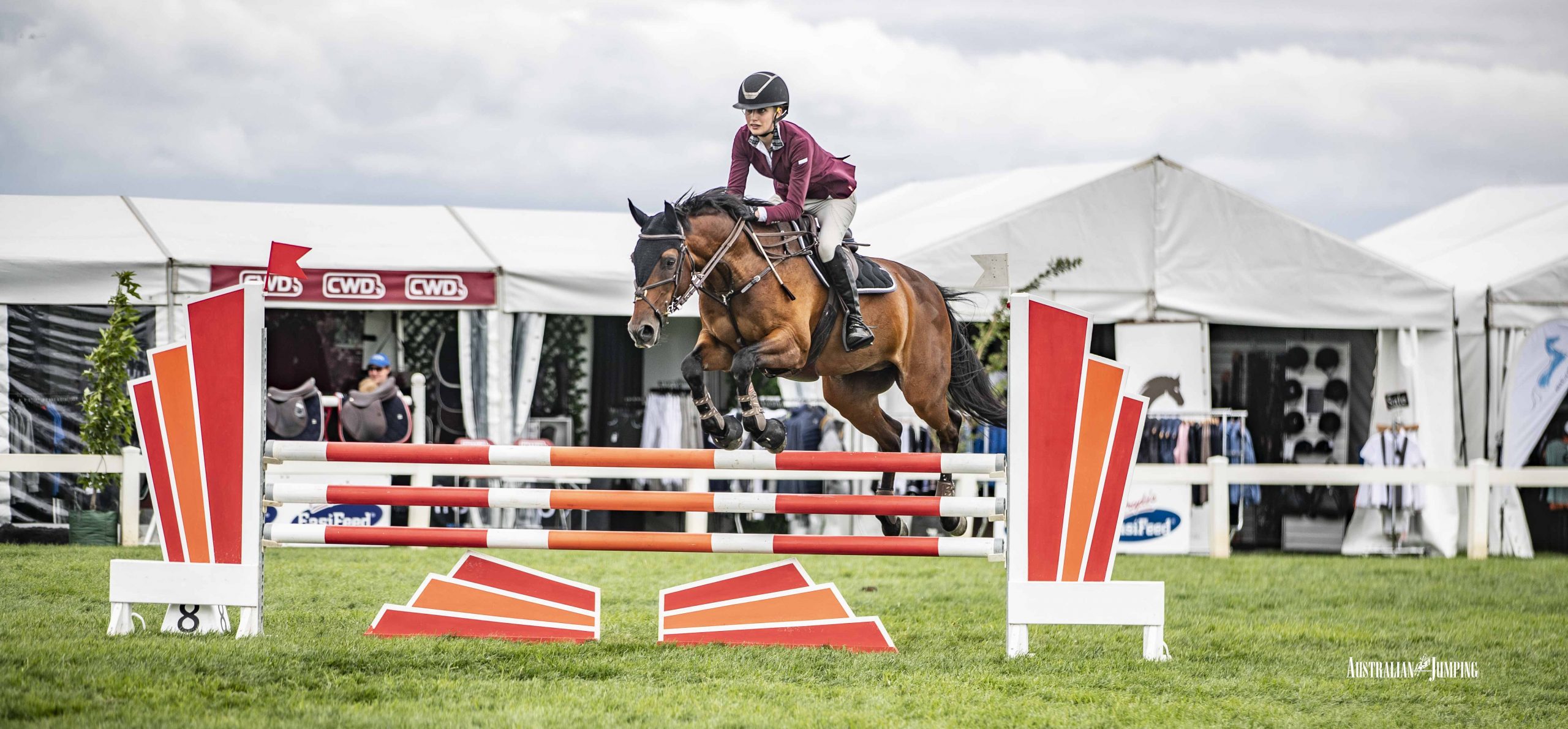 Above: Charlee Dobbin and Lovegrove
There was also plenty of jumping action on the Arilla Sand arena today. There were just the two classes, however, a large start list in each provided plenty of entertainment for the crowd watching on. The first class was the first round of the Volpaia Park Emerald Series, for horses with 16 points of less. Of the 77 combinations entered, there was an incredible 44 clear rounds, setting up a massively entertaining jump-off. There was only one of these 44 combinations able to break the 70 second mark, and that went to 2021 Queensland State Junior Squad member Jamie Hewitt-Toms and Balou Du Rose, who left all the rails up in a time of 69.85 seconds.
A super high standard of jumping saw 18 combinations record clear rounds in the jump-off, meaning that it would come down to time to sort the placings out, however, in this case, it was not enough. In a remarkable coincidence, young Queensland rider, Chloe Hughes and the mare Deedle and well as not so young New South Welshman, Chris Chugg and his gelding CF Comanche, both recorded a time of 42.51 seconds and could not be split for first place. They were almost half a second quicker than the third placed Teagan Chester and Callista. This sets up what will no doubt be an exciting Emerald Series, culminating in the final, scheduled for Saturday morning.
The other class on Arilla Arena 2 was the Trailrace Saddlery Open with the rails set at 1.10m. A field of 54 combinations were entered, 15 of which recorded clear rounds. As he did earlier in the day in the Mini Prix Qualifier Billy Raymont was the fastest, combining with Tulara For Quinar to take the win in 64.50 seconds. Second place went to another Queenslander, Kayla Johnston and Swingtime Vulcan, finishing in 65.98 seconds, with third going to Hanna Lamb and RBH Mr Image in 66.30 seconds.
It was a great day of jumping and everything ran like clockwork. We look forward to tomorrow, when the first rounds of the Senior, Young Rider and Junior Championships will take place on the Main Arena, as well as the commencement of competition on the Tulara Warmbloods Arena 3 and Arena 4.
Below are details of all the winners and placegetters for the day.
PRYDE'S EASIFEED MAIN ARENA
CLASS 1: KIERNAN PLANT HIRE – FUTURE STARS (ROUND 1) – MINIMUM 1.30m
| | | |
| --- | --- | --- |
| PLACE | RIDER | HORSE |
| 1st | Phillip Lever | BP Jedak Du Rouet |
| 2nd | Stuart Jenkins | Fairview Alicana |
| 3rd | Madeline Sinderberry | Balentino |
| 4th | Phillip Lever | Bellhaven Chanceux |
| 5th | Rhys Stones | Riverton Kanntador |
| 6th | Izabella Stone | Conchita Van De Helle |
| 7th | Stuart Jenkins | Fairview Cambridge |
| 8th | Russell Hearn | RBH Dante |
| 9th | Melissa Blair | Connollys Karuba |
| 10th | Andrew Lamb | Janory DP |
CLASS 2: INTERPATH – MINI PRIX (ROUND 1) – MINIMUM 1.40m
| | | |
| --- | --- | --- |
| PLACE | RIDER | HORSE |
| 1st | Billy Raymont | YPH Capulet |
| 2nd | Olivia Hamood | Knock Out 111 |
| 3rd | Russell Johnstone | Dondersteen |
| 4th | Tess McInerney | Alpha Centauri |
| 5th | Amber Fuller | Nopal Van Tallaert |
| 6th | Sam Overton | Yirrkala Cameron |
| 7th | Suzie Williams | Commander NZPH |
| 8th | Jess Kiernan | Hemsworth |
| 9th | Maverick Miles | Cavalier Ludicrous |
| 10th | Clem Smith | Quantico 12 |
CLASS 3: BEACONHILLS COLLEGE – AUSTRALIAN CHILDREN'S CHAMPIONSHIP (ROUND 1) – 1.05-1.10m
| | | |
| --- | --- | --- |
| PLACE | RIDER | HORSE |
| 1st | Charlee Dobbin | Lovegrove |
| 2nd | Jack Barker | Mighty Tosca |
| 3rd | Alice Lawrence | Mucho Mucho Deniro |
| 4th | Tanner Robinson | Shady Creek Blue Fire |
| 5th | Charlee Dobbin | Glenshea Riversong |
| 6th | Sophie Baldwin | Alcheringa Tradition |
| 7th | Imogen Lindh | Blackall Park Koraleigh |
| 8th | Zara Young | PP Master Class |
| 9th | Imogen Lindh | Nightwish |
| 10th | Joel Lamb | Springen Matilda |
ARILLA – RING 2
CLASS 4: VOLPAIA PARK – EMERALD SERIES (ROUND 1) – MINIMUM 1.10m
| | | |
| --- | --- | --- |
| PLACE | RIDER | HORSE |
| =1st | Chloe Hughes | Deedle |
| =1st | Chris Chugg | CF Comanche |
| 3rd | Teagan Chester | Callista |
| 4th | Conor Reed | ES Casello |
| 5th | James Harvey | Yirrkala Celeste |
| 6th | Ally Lamb | Kiara DP |
| 7th | Olivia Hamood | Diamond B Bedazzled |
| 8th | Hannah Luffman | APH Bubbles |
| 9th | Clara Palm | Tulara Lady Zirocca |
| 10th | Jamie Hewitt-Toms | Balou Du Rose |
CLASS 5: TRAILRACE SADDLERY – OPEN – 1.10m
| | | |
| --- | --- | --- |
| PLACE | RIDER | HORSE |
| 1st | Billy Raymont | Tulara For Quinar |
| 2nd | Kayla Johnston | Swingtime Vulcan |
| 3rd | Hanna Lamb | RBH Mr Image |
| 4th | Joy Collins | Old Red |
| 5th | Sam Williams | Oaks Kiribati |
| 6th | Jacinta Kennedy | Tulara Comet |
| 7th | Maggie MacDonald | Harlequin Dream |
| 8th | Kacey Ledger | Prince Calaf |
Article by Australian Jumping for Boneo Park